&reg
Faximum ELS/PLUS Reference Manual
for SCO OpenServer 5 - Release 2.1 - HTML Edition - Draft 1
[Top]
[Prev]
[Next]
[Bottom]
---
The File Menu
---
This chapter describes the Faximum File menu. As shown in Figure 66, there are three items in this menu.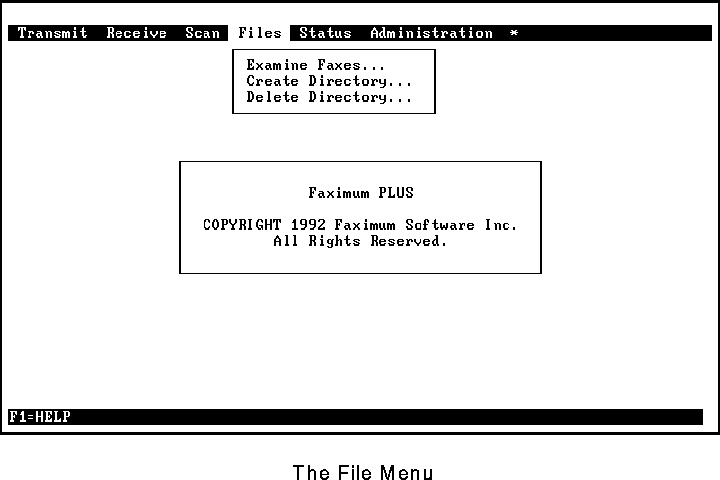 Examines Faxes

This permits you to examine the faxes in the current working directory (or any other directory that is accessible by you).

Create Directory

This enables you to create a new directory (i.e., the mkdir function).

Delete Directory

This enables you to delete an empty directory (i.e. the rmdir function).
Examine FAXes
This function is similar to the Fax In-Box option (refer to "FAX In-Box" on page 64 for more information), except that Faximum uses the last directory displayed in a file selection menu as the starting directory.
Create Directory
This function allows you to create a directory without having to leave Faximum.

You are asked to select the parent directory for the new directory via the directory selection menu (see Figure 67).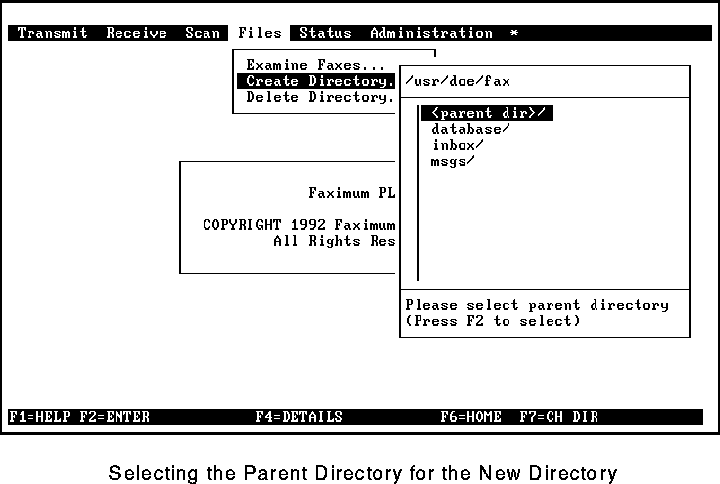 You are then asked for the name of the new directory (see Figure 68).
Delete Directory
This function permits you to remove an empty directory.

You are first asked to select the directory to delete (see Figure 69), then to confirm the removal of the directory (see Figure 70).
---
[Top]
[Prev]
[Next]
[Bottom]
---
support@Faximum.com
Copyright © 1996, Faximum Software Inc. All rights reserved.